Coffee of the Day - Vanilla Macadamia Nut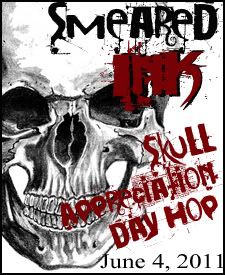 Welcome to my stop on the world famous International Skull Appreciation Day Blog Hop! whew, that is one big mouthful! ;) if you have arrived here from the fabby blog of ***
BARB
***, then you are right on track. if you get lost during the hop at any time, just jump right over
HERE
to see the full list.
As I was planning for this most amazing day, I realized that I wanted to make something pretty spectacular to share with someone pretty spectacular who, most importantly, needs to know just how spectacular he really is! 'He' is a 4th grade boy we are just beginning to know thanks to Camp and our Church District. This young guy and his mom have had a pretty tough go of things and he has a few learning disabilities on top of it all. I am so excited that he is going to attend a week of Camp this summer. The Summer Camp theme this year is, "Anchors Away", which is ideal for my project! I thought if our new friend had this waiting for him when he arrived at his cabin, it might remind him just how
cool he is and how much God loves him! Plus, coming from the Scull fam, whom he already knows, just adds to the fun! :)
I took a page from a chipboard album and covered both sides in papers from the October Afternoon Night Light collection. sides were sanded and covered in vanilla craft ink. A page from
Treasure Island
was copied, wrinkled, sprayed with walnut ink, and then burned along the edges to age. I added a wooden pirate ship, foam flag & skull pirate head that were inked along the edges, and a tag made with cardboard. I just love the quote from Thoreau! The mesh fiber trim was then added along the bottom.
Now for that waaaaaaaaaaaaaay cute image - this cutie pirate comes from Claire at
Jellypark
. isn't he so much fun?!?! he reminds me so much of my guys when they were younger. as with most of my stamping, it was done with inks & watercolor brushes. I did sponge vanilla craft ink over the top of the box to help makes it more like a real cardboard box. Btw - be on the lookout for more news coming here from
Jellypark
! ;)
just a reminder that there are some intensely cool prizes available during this hop. deets can be found at the beginning, at
Terra's blog
.
Now sail on over to the wonderful blog of ***
TERI
***!!!!
Craft Your Days Away
- Father's Day/Special Guy
Designed 2 Delight
- masculine with no flowers
One Stop Craft
- texture
Delicious Doodles
- texture
Fussy and Fancy
- for a guy
Stamp Something
- digi
Fresh Brewed Designs
- it's a guy thing
Craft Your Passion
- what a guy
Simon Says Stamp
- for a guy
Sweet Stamps
- masculine